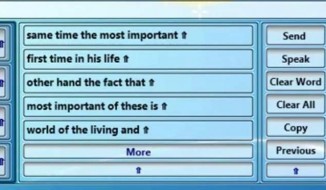 Het is zeker nog geen gelopen zaak met deze ontwikkelingen, toch ben ik hoopvol gestemd. Simpelweg om één belangrijke reden, de game-industrie is begonnen met mee te denken en ontwikkelen van toepassingen. Ik verwacht daar op termijn toch enige spin offs van.
——————————————————————————————————-
This demonstrates the Tilvus Assistive Interface using a brain-computer interface (BCI) switch. It enables people with severe physical impairments or disabilities to use a computer, enter text, and speak. The Emotiv EPOC neuroheadset is being used with their software's "Cognitiv Suite" to read brain waves as input for Tilvus. PhraseWeaver predictive text entry and the Coaster Cursor are demonstrated. A pre-release (beta) version of the Tilvus software is being used.
http://tilvus.net/
http://phraseweaver.co
Zie ook: (pre order > beschrijving staat bij Voortgang Afasie)
http://interaxon.ca/how_it_works