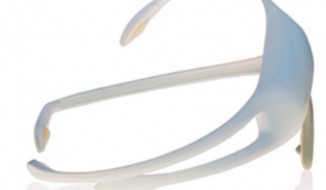 Droom of wordt het nog eens werkelijkheid dat Thea met behulp van een BCI (brain computer interface) beter kan communiceren, dat is de vraag die mij nog steeds bezighoudt. Ik heb er al in een aantal berichten over geschreven. Zie Emotiv, Brain Computer Interface & Interaxon en Voorgang afasie. Het is bekend dat wetenschappers o.a. Femke Nijboer (Human Media Interaction, University of Twente) zich intensief met dit onderwerp bezig houden. Op deze site staat ook een video over dit onderwerp, "De zin en onzin van BCI". Deze video van Femke Nijboer werkt ontnuchterend t.a.v. een snelle beschikbaarheid, maar neemt mijn hoop niet helemaal weg. Mijn ideale voorstelling  " Thea loopt met een modieuze headset op haar hoofd door de kamer, ze denkt aan een woord en het woord schalt (wifi) door de kamer" blijf ik nog even koesteren. Feit is dat via Kickstarter (Crowdfunding) al 1,643,117 dollar is opgehaald voor de ontwikkeling van de emotiv headset. Op de site van Emotiv staat o.a. de volgende tekst;
The Emotiv Insight offers an inexpensive, uncomplicated way to regularly measure brain performance and is completely safe for children, adults of all ages, and those with medical conditions. Based on community feedback, we recently added the Emotiv Insight in a new Stealthcolor option and additional reward tiers to give Kickstarter backers the chance to get your hands on these first, before general release. A huge thanks to our incredible design team, 4Design, for the outstanding job in creating these photorealistic renders of what this Stealth version might look like, and for working around the clock to make this possible.

» Lees meer
Our brains are made up of a hundred billion nerve cells called neurons. When neurons interact through a chemical reaction, they naturally emit a measurable, electrical impulse. Electroencephalography or EEG is the process of observing brainwaves through these pulses. Emotiv Insight measures your brainwaves and translates it into meaningful data to help you make the most of your cognitive performance. The Brainwear can measure, track and help you improve your Attention, Focus, Engagement, Interest, Excitement, Affinity, Relaxation and reduce Stress levels.
Binnenkort verwacht ik een headset die zo draagbaar is dat Thea hem op wil zetten. Het wel of niet willen is een aspect dat ik niet moet onderschatten, anders blijft het gewoon in de la liggen
🙂
» show less